Heavy Duty GSM Auto Dialer
The M30 is a Heavy Duty Alarm Autodialer that can work over both the GSM and PSTN phone networks. It is specifically designed for use in hash industrial and commercial environments and comes with all the features that you would expect from a Heavy Duty Auto Dialer.
Including 4,8,16 and 56 separate inputs, IP65 enclosure, integrated 24 hr battery backup, spike and surge protection on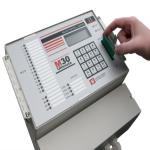 all inputs, Military quality components and various backup options.
Voice over GSM
The GSM Converter Module allows the M30 to use a GSM mobile connection to send and receive voice calls; this is in addition to a PSTN connection.
The Module comes with a separate dedicated internal battery backup and is designed as a separate dedicated unit so it can be installed in the best location for a signal, which is often not the best location for installing an M30.
This Module can be used either to provide a dedicated GSM line if there is no PSTN line available or can be used as a backup device. The GSM module can monitor a connected PSTN line; if that line fails for any reason, the GSM module will automatically switch the M30 to the GSM line.
Visit the GSM Upgrade page for more information.

SMS over GSM
This module works in addition to the standard PSTN and GSM voice modules. It allows you when configuring the unit to specify whether an alarm call recipient gets a Voice message or an SMS.
If you specify SMS, the recipient will receive an individual SMS for each active alarm channel.
Each channel has a unique configurable text message, so you are not stuck with standard text e.g. "Fire in hanger 1" instead of "Channel 1 Alarm" etc.
Visit the SMS Upgrade page for more information.
M30 Auto Dialer Features include;
4,8,16 or 56 individual alarm inputs.
Integrated Backup Battery.
PSTN Telephone Line failure sensing (optional).
GSM Network dialing and backup (optional).
Individual Real Speech Messages.
Individual SMS alarm text messages (optional).
Fully menu and keypad driven.
999 Approved.
Check out all of the M30's features on the Standard Features and Options Features Pages.
Written by M60 GSM Alarm Dialer