Auto Dialer System for Remote Equipment Monitoring
Auto Dialer System for Remote Equipment Monitoring
 Looking for an Auto Dialer System for remotely monitoring your equipment? We have been designing and manufacturing auto dialer systems since 1958 to securely and reliably remotely monitor equipment in critical and industrial environments all over the world.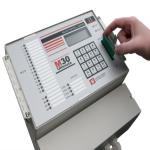 On activation our M30 can not only send real user recordable speech messages but SMS text messages, pages and local alarm signals to inform you when there is a problem on site. Unlike cheap and domestic systems the M30 is clever and can be setup to help you run your business more efficiently – for example; only report alarm calls during certain hours/days or to ring different contact lists depending on which alarm contact is activated.
The unit can connect to both standard PSTN land phone lines as well as the mobile (cell) GSM networks, meaning the M30 can be fitted in remote locations where it is not possible/practical to get a landline. The GSM line can be used as a backup; so if the land line fails or is cut the M30 will automatically switch to the GSM network.
Our Auto Dialer systems features include;
4,8,16 or 56 separate alarm contacts.
Integrated battery backup.
Integrated mains failure detection.
GSM & PSTN line connections.
Remote interrogation.
Fully menu and keypad driven.
Plus many more….
The M30 Auto Dialer can take alarm inputs from a multitude of equipment and devices for example;
•    Volt free Dry Contacts.
•    N/O or N/C Relays.
•    Equipment status contacts.
•    Equipment Alarm contacts.
•    High / Low Level Sensors.
•    Temperature Sensors.
•    Flow Sensors.
•    Pressure Sensors.
•    Mains Failure Detectors.
Our system is very easy to use and will work with all industrial and commercial equipment.
For more information, help or pricing please contact us or visit our standard features or Auto dialer FAQs pages.
Written by M60 GSM Alarm Dialer