Cryogenic Storage Dewar Alarm System
Our M60 Alarm Dialler system is designed for use in industrial and laboratorial environments, and for the protection, monitoring and reporting of systems such as Cryogenic Storage Dewars.
The Dewar storage system is a unique type of vacuum flask that is used for holding/storing cryogens such as liquid helium and nitrogrem where their boiling points are lower than room temperature; Dewars are named after their designer James Dewar.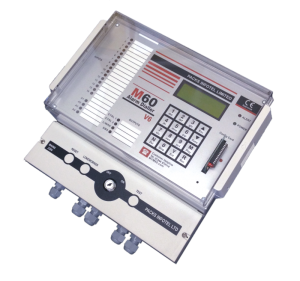 Cryogenic Storage Dewars have various alarms that can be easily connected to our M60 for monitoring and alarm communication in the event of a problem. Some of the items that are rutinly monitored are listed below.
High Pressure Alarm.
Safety Valves Alarm.
Excessive Vapour Pressure.
Gas Alarm.
Room Oxygen Levels.
Mains failure.
We have been designing and manufacturing Alarm Dialler systems since 1956 and the M60 is our latest version. It is easy to use with an LCD display and keypad; it comes with features such as an integrated battery backup, remote integration and an event viewer.
Voice Alarm Messages
As standard each input on the M60 has its own voice message that can be simply recorded by the user , so you can replace a "channel 12" alarm message with a more usefull "High Pressure Alarm in room 2" message.
We also provide a custom voice message recording service.
SMS Messages

Every input on the M60 can have its own unique user configurable SMS message to allow the recipient to easily identify what the alarm is.
Alarm Inputs

The M60 comes in 4,8,16 and 56 input versions. Each input can be individually configured to be either Normally Open or Normally Closed alarm circuits.
The M60 also offers 4 analogue inputs; these inputs can be configured as 4 to 20 ma, 0 to 10 ma, 0 to 20 ma, DC Voltage, Potentiometric transducer and fully floating.
PSTN / Mobile / Cell Phone connection
The M60 can connect to multiple communication mediums including a standard PSTN land line and the Mobile/Cell Phone networks.
The M60 can send Voice messages over the PSTN network and voice and SMS messages over the Mobile/SMS network.
The Mobile/Cell Phone connection can also be used as a backup option, the M60 will monitor the connected PSTN landline and if the connected landline fails it will automatically switch over.
The M60 Cryogenic Storage Dewar Alarm System standard features include;
4, 8, 16, 32 & 56 individual alarm inputs / channels.
Individual Speech Messages for each input.
Individual SMS Messages for each input.
PSTN & Mobile/Cell Options.
Internal Mains Failure Alarm Sensor.
48 Hour Internal Battery Backup.
Fully Menu and Keypad Driven.
IP56 Industrial Rated Enclosure.
Because the M60 is built by us in the UK if there are any special features you require for your project we can normally create them for you.
The above is only a small subset of the available features on the M60 Cryogenic Storage Dewar Alarm System; for a complete list visit the Standard Features and Optional Features pages or contact us for a quote.
Written by M60 GSM Alarm Dialer