Computer Room Auto Dialer
We have been designing and building Auto dialers since 1958 and installing them in IT environments since the mid 1970's, during that time we have refined our designs and added user requested features to allow us to purposely design the M30 for use in Server / Computer rooms or other types of IT centre.
Because of the  amount of money and time that can be lost by a single PC or Server failure the M30 is purposely designed for Critical environments and has various backup an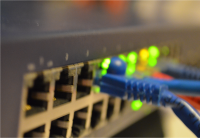 d fail safe features built in, including 24hr battery backup, test diagnostics, daily test routines and PSTN / GSM network connections.
4 , 8 , 16 or 56 Individual Inputs – The M30 comes in 4 different versions to give you the exact amount of alarm inputs you require. Each input can be either a Normally Open or Normally Closed contact loop. (If you want to supply voltage then you will need to use a converter module). Each input has its own dedicated real speech or SMS message, so instead of getting a "channel 1 alarm" you get a more useful "computer room 1 high temperature" message.
GSM Backup – The M30 gives you four options for connecting a phone line;
Via the default PSTN land line connection.
Via a dedicated GSM connection. – Great if you don't want or can't have a PSTN connection.
GSM as a backup, the M30 will continually monitor the connected PSTN line, if this fails then the M30 will automatically switch to the GSM network. – Great for critical situations.
You can also connect our SMS module allowing you to send SMS messages in addition to a voice call.
M30 Features;
4,8,16,56 separate alarm inputs, each with their own dedicated speech message
PSTN Phone line connection
GSM Phone line Connection either dedicated line or as a backup option.
SMS Text Message Option
Integrated 24hr plus battery backup.
Remote Integration – you can phone the unit at any time to check its status.
Fully Menu and keypad driven.
Designed any built for industrial and commercial environments.
Because the M30 is designed and built by us in the UK, if there is a feature or function you would like please contact us a s we can normally create it for you.
For more information, help or pricing please contact us or visit our standard features or Auto dialer FAQs pages.
Written by M60 GSM Alarm Dialer