Multi Input Alarm Dialer
Multi Input Alarm Dialer
Our M60 is a Multi Input Alarm Dialer, designed for use in commercial and Industrial environments.
As a Professional Multi Input Alarm Dialer, it comes with all the features you would expect such as voice and SMS messaging, ability to setup multiple dial out groups, integrated battery backup, easy to use LCD interface, and is fully serviceable/repairable.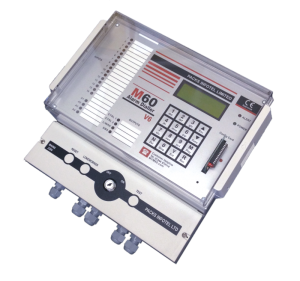 The M60 is used around the world to Monitor and Protect industries such as Livestock Protection, Horticulture Protection, Power Generation, Building Management, Pharmaceutical, Cold Storage and Fire Alarms.
Multi Input
The M60 provides up to 56 separate inputs, with the M60 coming in 4, 8, 16, 32 or 56 input versions every input can be individually enabled/disabled and setup as either Normally Open or Normally Closed alarm circuits.
Every input has its own user recordable voice message and or SMS text message, as they are user configurable you are not stuck with a  "channel 24 alarm" you can set up a useful alarm message   for example "Power failure in building 4".
The M60 also offers 4 analogue inputs; these inputs can be configured as 4 to 20 ma, 0 to 10 ma, 0 to 20 ma, DC Voltage, Potentiometric transducer and fully floating.
PSTN / Mobile / Cell Phone connection
The M60 can connect to multiple communication mediums including a standard PSTN land line and the Mobile/Cell Phone networks.
The M60 will send Voice messages over the PSTN network and voice and SMS messages over the Mobile/SMS network.
The Mobile/Cell Phone connection can also be used as a backup option, the M60 will monitor the connected PSTN landline and if the connected landline fails it will automatically switch over.
The M60 Multi Input Alarm Dialer standard features include;
4, 8, 16, 32 & 56 individual alarm inputs / channels.
Individual Speech Messages for each input.
Individual SMS Messages for each input.
PSTN & Mobile/Cell Options.
Internal Mains Failure Alarm Sensor.
48 Hour Internal Battery Backup.
Fully Menu and Keypad Driven.
IP56 Industrial Rated Enclosure.
Because the M60 is built by us in the UK if there are any special features you require for your project we can normally create them for you.
The above is only a small subset of the available features on the M60 Multi Input Alarm Dialer; for a complete list visit the Standard Features and Optional Features pages or contact us for a quote.
Written by M60 GSM Alarm Dialer