Wireless Alarm GSM Dialler
Wireless Alarm GSM Dialler
The M60 is a Wireless Alarm GSM Dialler that can also connect to the landline phone network for sending voice and SMS alarm messages.
The M60 is a Commercial Dialler that is purpose built for use in industrial and harsh environments. It comes with 4,8,16,32 or 56 individual inputs, 24-48hr battery backup, protected inputs and is fully menu driven with an LCD display.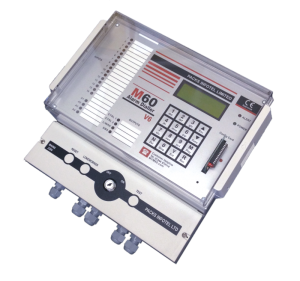 Check out more features below or visit the Standard Features and Optional Features pages for more information.
Wireless GSM Communication
The M60 can connect to the GSM mobile/cell phone network to send Voice and or SMS messages. The GSM network can also be used as a backup.
If you connect the M60 to a Landline and to the GSM network the M60 will use and monitor the landline. If the Landline fails it will automatically switch to the backup GSM network.
Messages
Each input on the M60 can have its own dedicated voice and SMS message, all messages are customisable and so you are not stuck with a generic "Channel 6 alarm", but a more useful "Mains Failure in LAB A"

The Speech messages are user recordable via the Menu and LCD system.
To make things easier for the end user we setup all the outgoing SMS messages to the users specification, this saves the user from typing in hundreds of characters.
If the user wants to change the SMS messages we just send out a replacement card that slots in the front.
The M60 Auto Telephone Dialer standard features include;
4, 8, 16, 32 & 56 individual alarm inputs / channels.
Individual Speech Messages for each input.
Individual SMS Messages for each input.
PSTN & GSM Options.
Internal Mains Failure Alarm Sensor.
24+ Hour Internal Battery Backup.
Fully Menu and Keypad Driven.
IP56 Industrial Rated Enclosure.
Because the M60 is built by us in the UK if there are any special features you require for your project we can normally create them for you.
The above is only a small subset of the available features on the M60 Telephone Dialer; for a complete list visit the Standard Features and Optional Features pages or contact us for a quote.
Written by M60 GSM Alarm Dialer