GSM Speech and Text Dialler
The M30 is an industrial GSM Speech and Text Dialler specifically built for harsh and commercial environments.
The M30 is used around the world by a large variety of companies to protect and monitor an array of situations including High / Low Temperatures, Freezer / Fridge Failures, Power Failures, Equipment Failures, Process Failures, High / Low Water Levels, High / Low Pressures, Security Systems, Building Management, Lone Worker Alarms, Computer Server Rooms, Human Life Support, Horticulture & Livestock Protection.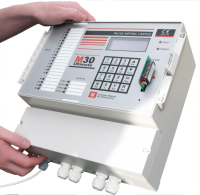 As an industrial designed unit, it comes with all the features you might expect including, 4,8,16 and 56 individual inputs – each input has its own real speech and or SMS message, GSM and or PSTN network connections, 24 hour plus battery backup, and an IP56 enclosure.
GSM and or PSTN
The M30 can use both the GSM mobile phone networks and also the PSTN land line networks to send out alarm messages.
The GSM can be setup either as a permanent communication medium or act as a backup incase the PSTN landline is cut or has failed.
GSM Speech
Each input on the M30 has its own user recordable real speech message not a prerecorded or robotic voice; you can setup the unit to say what ever you wish. There is also a general machine identification message to allow you to easily differentiate between multiple machines and also to comply with BT regulations.
SMS Text messages
Each input on the M30 has its own individual text message, plus there is general machine identification message, this is to allow you to

easily differentiate between multiple machines.
When an alarm or alarms are activated you will receive a message for each active alarm, e.g. if 4 alarms/channels where active you would receive 4 messages.
So instead of a "channel 1"alarm message you will receive a more useful "This is Sunningdale Landfill, High temperature in boiler 1" message.
The M30 Dialler features;
The M30 is built and designed by us in the UK, so if there is a special feature or function you need for your application please let us know and normally we can get the feature added to the M30.
4,8,16 & 56 Individual Alarm inputs.

Normally Open or Normally Closed alarm inputs.
Each with their own Speech and or SMS message.

User Recordable Real Speech alarm messages.
SMS Text Messages.
3 individual alarm callout groups / rosters each can have up to 5 telephone/SMS/ mobile/pager numbers (expandable).
1 additional Emergency group / roster.

Your emergency group of telephone numbers can be permanently linked to a channel, so they only get called when that channel is activated. I.e. if channel 1 is your fire alarm you can set it up to call the fire brigade while all the other channels call the standard alarm callout group.

GSM and or PSTN connections.
Remote Interrogation.

You can phone the M30 from any phone at any time to check the current status of the alarm inputs.

Integrated Mains Failure.
Integrated Low battery Alarm.
Fully menu and keypad driven..
24hr + Battery Backup.
Industrial IP56 Enclosure.
The above is not a complete list of all the avaible features but just a selection of the highlights, visit the M30 Speech Dialler Standard and Optional features pages for a complete set or contact us for pricing.
Written by M60 GSM Alarm Dialer