Speech Dialer for Fire Alarm System
Installing a Speech Dialer for a Fire Alarm system should be considered a mandatory item. After all like the preverbal tree in the woods, if there is no one to hear it does it make a sound? Even if you have a manned 24hr security desk do you really want them hunting around for the emergency contact list instead of evacuating the building?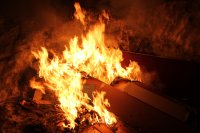 Unlike most other types of Dialer on the market that are built in china using the cheapest components and are designed primarily for domestic environments, our M30 is a Professional Commercial Speech Dialer build for industry with high quality military strength components and has over 60 years of heritage behind it.
M30 Speech Dialer features include;
4, 8, 16, 56 Individual inputs.

Each has their own user recordable speech message.
Each can have their own SMS message.
This allows you to easily differentiate between alarm inputs (e.g. parts or the building etc).

Customisable messages that meet the specification laid down to dial 999.
Multiple alarm recipients

As standard the M30 comes with 3 user selectable rosters / groups of 5 telephone numbers that will be called in the event of an alarm. (this is expandable).

GSM and or PSTN

The M30 as standard will connect to your PSTN landline telephone network, but we now offer an optional bolt on GSM module as well.
The GSM module allows you to use the GSM network full time instead of a PSTN land line or as a backup facility. When used as a backup the M30 will monitor the connected PSTN line and if it is cut or fails will automatically switch to the GSM mobile networks.

Remote Interrogation.

You can phone the M30 from any phone at any time of the day or night to check the current status of the alarm inputs.

Internal 24hr+ Battery Backup.
Integrated mains failure.
Integrated low battery alarm.
Fully menu and keypad driven.
IP65 Enclosure to protect from moisture / dust and insects causing damage.
The above list is not definitive; please visit the M30 Standard features and Optional features pages.
On top of the standard features we can offer various optional extras including;
SMS Text Messaging – As of January 2013 the M30 can now send SMS text messages in addition to speech messages. Setup is as simple as selecting in the menu whether you would like this alarm call to be voice or SMS.
Telephone Line Backup – The M30 now has the ability to monitor your connected PSTN line, if it fails or is cut the M30 will automatically swap to the GSM network. The GSM network can also be used full time if you don't have a PSTN line available.
Channel to Roster – The channel to roster upgrade allows every input/channel on the M30 to dial a totally separate dedicated list of telephone numbers. So for example Channel 1 can phone the fire brigade. Channel 2 can phone your security desk, Channel 3 can phone the on call boiler engineer etc…
For More Information on the M30 visit the M30 Speech Dialer Standard Features and M30 Speech Dialer Optional Features pages or contact us for the latest price list.
Written by M60 GSM Alarm Dialer