SMS Text Message Feature
As of the winter of 2012/13 we have added another new feature to our M30 Alarm Dialler, the ability to send SMS messages in addition to the standard voice messages.

Each input/channel on the M30 can be configured with a user defined text message of around 25 ASCII characters – so instead of a recipient getting a useless "channel 1" alarm they can receive a useful "Mains Failure Boiler one" message.
This feature is in addition to the standard voice message option so you can still setup and send user recordable voice messages over the PSTN networks or over the GSM networks with the GSM converter.
Setup
Setting up your M30 is very simple; while entering your alarm contacts phone numbers you can select whether the recipient should get a SMS or a voice message.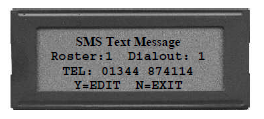 The station identification is a maximum of 31 ASCII Characters.
All inputs can have an individual identifying text message of up to 25 ASCII characters.
Operation
When the M30 detects an active alarm/s it will send an individual SMS message for each active input to the predefined recipients. E.g. if 4 inputs are active then the on call engineer would get 4 SMS's.
Message Example
Each SMS message is created from the M30's Station ID (in <> brackets) and the inputs individual message and then followed by an *End of Message*.
E.g. If channel 1 is in alarm the M30 will send a text message as follows:

<Packs Infotel Office> Channel 1 Alarm Condition *End of Message*
or
<Sunningdale Landfill> Mains Failure Boiler one *End of Message*
For more information of the SMS upgrade visit the SMS Feature page or the SMS section on our Blog.
Written by M60 GSM Alarm Dialer