Multi Channel Active Alert Feature
Multi Channel Active Alert Feature
As of the Summer of 2013 we have added another new feature to our M30 Alarm Dialler, the ability to setup a default "Multi Channel Active" alert message.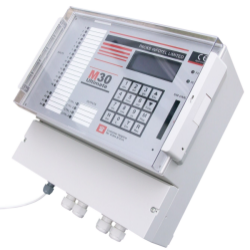 On a standard M30 when you get an alarm call, the M30 will play a message detailing every current active alarm, this can take a while if there are lots of active alarms, especially on a 16 or 56 channel machine.
With the "Multi Channel Active" feature if more than 4 (default is 4 but is alterable) channels/inputs are active the M30 will play a short user recordable message e.g. "There are Multiple Alarms Active, call back or interrogate for more information".
If you want to know exactly what channels are active you just have to phone the M30 back to cancel the alarm or perform a standard integration, and as per a normal machine the M30 will list all the active channels.
This new feature is available either as an option on a new M30 or as a simple software upgrade on a current machine.
For more information and pricing on the Multi Channel Active Alert Feature please contact us

Written by M60 GSM Alarm Dialer