Telephone Auto Dialer Alarm System
Telephone Auto Dialer Alarm System
The M60 Telephone Auto Dialer Alarm System is an advanced Alarm Dialer, purposely designed for use in industrial/commercial situations. The M60 is used around the world in various industrials including; Manufacturing, Energy Production, Commerce, Horticulture, Livestock Protection, Lone Worker Protection and Pharmaceutical.
The M60 was designed with over 60 years of Alarm Dialer experience and the input of our customers, so it comes with a host of features including; Intergrated Battery Backup, Fully Menu Driven Setup System with LCD, Protected Inputs, Phone Line Backup System and an IP65 Enclosure. Visit our features page for more information.
Multiple inputs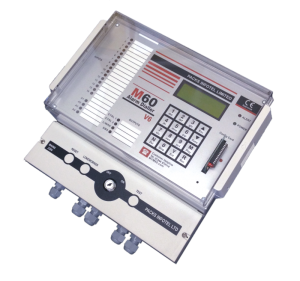 The M60 comes in 4, 8, 16, 32 and 56 input versions. Each input has its own dedicated wiring terminals, visual indicator and alarm message.
Voice and SMS Alarm Messages.
The M60 can now send both Voice and SMS messages over the Mobile/Cell phone networks. Each channel/input has its own dedicated user configerable message, allowing easy and fast identification of alarms.
Email (coming soon)
Email and online monitoring of your M60's is coming in 2019.
The M60 Auto Telephone Dialer standard features include;
4, 8, 16 & 56 individual alarm inputs / channels.
Individual Speech Messages for each input.
Individual SMS Messages for each input.
PSTN & GSM Options.
SMS Text messages.
Event and Alarm Logging (optional).
Internal Mains Failure Alarm Sensor.
24+ Hour Internal Battery Backup.
Fully Menu and Keypad Driven.
IP65 Industrial Rated Enclosure.
Because the M60 is built by us in the UK if there are any special features you require for your project we can normally create them for you.
The above is only a small subset of the available features on the M60 Telephone Auto Dialer Alarm System; for a complete list visit the Standard Features and Optional Features pages or contact us for a quote.
Written by M60 GSM Alarm Dialer