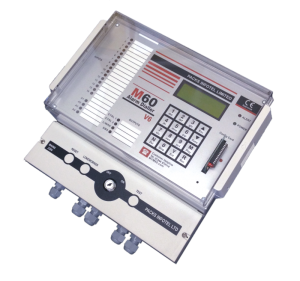 Alarm Dialer with Mobile Backup
The M60 Alarm dialer is a commercial Alarm Dialer designed for critical applications. The M60 has the facility to monitor a connected PSTN land line, if that land line fails it will automatically switch to the Mobile phone GSM network.
The M60 also has the optional ability to send SMS messages. This can be used as a secondary backup device as you can fit a second SIM card from a different network. I.e. you can send voice messages across network A and SMS across network B. Meaning even if one network is busy you can still use the other network to send your alarm message.
The M60 can also be connected just to the GSM network if no PSTN line is available.
M60 Features;
Below is just a small selection of the features that are available, for the full list please visit our Standard Features and Optional Features pages or Contact Us.
4,8,16,56 separate alarm inputs, each with their own dedicated speech message
GSM Phone line Connection either dedicated line or as a backup option.
SMS Text Messages
PSTN Phone line Connection
Integrated 24hr plus battery backup.
Remote Integration – you can phone the unit at any time to check its status.
Fully Menu and keypad driven.
Designed and built for industrial and commercial environments.
Because the M60 is designed and built by us in the UK, we can customise the unit for your exact needs and situation including creating bespoke features and functions.
For more information, help or pricing please contact us or visit our standard features or Auto dialer FAQs pages.
Written by M60 GSM Alarm Dialer