Generator Alarm System
The M30 Generator Alarm System provides an easy and reliable method to monitor your Generators and Power Plants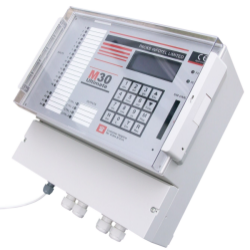 especially in remote or unmanned locations where it is critical to have a constant power connection.
When a problem occurs the M30 will instantly alert the current on call personal by voice and or SMS message to tell them there is a problem on site.
Not only can you monitor mains failure detection and generator stop / starts you can also monitor other aspects of the generator e.g. fuel levels, over heating alerts. Plus you can connect anything else on the site than you would like to monitor e.g. Security systems, High/Low temperatures, Water levels etc.
GSM and SMS communication
If you don't have a land line connection available then you can use the M30's GSM and or SMS module to send your alarm voice messages.
SMS communication can be done simultaneously with a connected land line. e.g. you could set up your contact list to send 3 SMS messages and 3 voice messages via the land line.
Phone Line backup
The M30 provides the means to automatically monitor any connected land line connections for failures. If a failure is detected the M30 will then automatically switch to the GSM/Mobile/Cell phone networks.
The M30 Generator Alarm Dialer Features Include;
4, 8, 16 & 56 individual alarm inputs / channels.
Individual Speech Messages for each input.
Individual SMS Messages for each input.
PSTN & GSM Options.
Internal Mains Failure Alarm Detection.
24+ Hour Internal Battery Backup.
Fully Menu and Keypad Driven.
IP56 Industrial Rated Enclosure.
The above list is only a small subset of the features available for the M30, visit our Standard and Optional features pages for more information, in addition as the M30 is designed and built by us in the UK if there is a features you need, or if you want the M30 to work in a particular way for your application then please give us a call as we care happy to create custom features.
For more information or the get the current pricing please contact us.
Written by M60 GSM Alarm Dialer